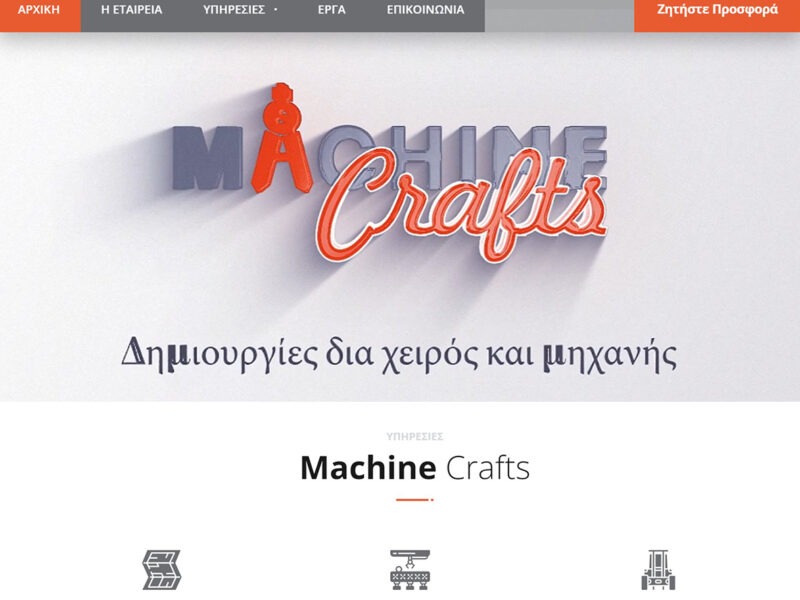 CREATING A NEW BUSINESS IDENTITY AND A NEW WEBSITE FOR THE MACHINERY FACTORY "MACHINE CRAFTS"
For more than 40 years, the Vasilakis family has been active in the manufacturing of various kinds of components, tools and materials—products to cover their clients' needs in industry, crafts, agriculture & stock raising, construction, interior decoration and other sectors.
Starting out in the field of mechanical constructions, the company has evolved from repairing and manufacturing simple components for professional fishing boats to meeting the needs of large manufacturing and technical businesses, commercial companies, and freelancers.
With its own 1,500 m2 construction and storage facility, state-of-the-art equipment, and a dedicated and established team, "Machine Crafts" designs and implements structural and mechanical constructions, repairs machines, machinery and commercial vehicles, and even designs decorative components which range widely in both their form and design. And as well as being a trusted partner to individuals, the firm facilitates the operation and development of several business sectors on Naxos and throughout the Cyclades.
The visual proposal that was ultimately chosen and approved comprises a unique approach which stands out for its powerful artistic style, its complex design and industrial tone, its colours and font exuding dynamism, efficiency, experience, performance and confidence.
Enjoying powerful competitive advantages such as experience and know-how, along with access to innovative applications and methods as well as state-of-the-art equipment, and the capacity to cater for diverse needs, implement demanding and complex projects, and produce customized solutions and products across a broad spectrum, the owners of the machinery decided to develop their company still further and extend its operations beyond their local market.
With this in mind, and given the company's low visibility beyond Naxos, they contacted us for help in strengthening their image, enhancing their brand, penetrating new markets and raising awareness about the products and services they offer.
In this context, the OPEN UP Communications team drew up a comprehensive communications and promotion plan which included designing and developing a new company identity as well as constructing a new corporate website to give the company an online presence.
Identity-wise, the company had an old-fashioned name which told the public nothing about it, while its poorly designed and unattractive visual communication also failed to convey anything about the company's philosophy, style, dynamism, positional strategy and objectives.
Which is why the owners came to us for a total make-over, giving us free rein to design a new logo from scratch and come up with a new name.
The main objective of the updated identity was to signal a modern, integrated firm with considerable expertise and a high degree of specialization in the manufacturing field, capable of cutting and fabricating material, equipment and tools of all kinds and dedicated to its core mission of adding value to the operation of every business and of upgrading every project it is involved in through the provision of customized and personalized solutions.
Which is when we decided that we would also need a new tagline to accompany the new logo, one that could further reinforce the identity and communicate the philosophy, feel and style of the company more effectively.
This was the background against which OPEN UP Communications' creative team came up with their initial proposals, which also included a new slogan.
Given the unreserved approval of the client, the company was renamed Machine Crafts, a name which states exactly what it does while simultaneously modernizing and strengthening its identity through the use of English and the accompanying tagline (in Greek): "Creations made by hand and machine".
The visual proposal that was ultimately chosen and approved comprises a unique approach which stands out for its powerful artistic style, its complex design and industrial tone, its colours and font exuding dynamism, efficiency, experience, performance and confidence. The new logo centres on a visual element—a pair of dividers—which represents technical perfection, excellence in design, precision in execution and successful implementation. Given its association in consumers' minds with quality, flexibility, adaptability, reliability and consistency, the logo creates a strong positive stimulus. The colour—bright orange—also plays its role in signalling a company involved in heavy industry, while also making it seem more familiar, friendly, modern and accessible to the ordinary consumer.
The OPEN UP Communications team finished up by creating a concise brand manual, with instructions on how to use the new logo and some suggestions for possible applications.
Subsequently, OPEN UP Communications' Digital Marketing team undertook the design, development and construction of a corporate informative website, with a detailed description of the company profile, its competitive advantages, products and services, as well as the projects in which it has participated. Designed for fast and easy navigation and in a modern style, with a focus on making information immediately available to users and on responding to their needs, the new website https://machinecrafts.gr sets the tone for the newly-revitalized company and its strategic development by bringing it into the digital world.
We are particularly happy to have brought this project to such a successful conclusion, and are delighted with our clients' unreserved acceptance and satisfaction with the outstanding result. We would like to thank them for entrusting their business to OPEN UP Communications.