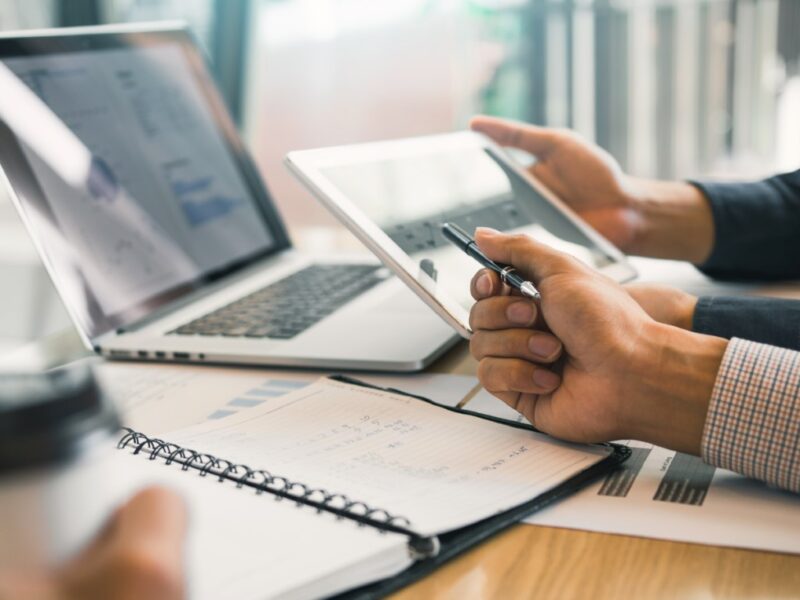 CORPORATE WEBSITE FROM A LOCAL AGENCY
Today, creating a website is not only easier than it has ever been, it is also more essential.
The penetration of the internet into every aspect of our lives and the growing use of search engines, mobile phones as multifunctional tools (for communication, entertainment, information, stock trading) and e-services (e-commerce, e-banking, e-shopping) in our daily lives, one can only wonder how there could still be businesses, however small or local, that still don't have a professional website.
In fact, surveys show that 30% of Greek SMEs do not have a company site, and only 20% have an e-shop.
Small business owners cite various reasons—including a lack of knowledge, time or money—to explain why they don't have a professional website yet. In truth, though, many of them do not think they need a site, either because they consider an internet presence to be irrelevant for them, or because the social media presence they already have is sufficient.
After a year in which the covid-19 pandemic has impacted on every aspect of our lives, more and more entrepreneurs are realizing that digital technology will inevitably have a role to play in their professional life from here on in.
If you have a small local business and still believe that setting up a company site is a waste of time, here are some serious arguments that will convince you otherwise.
1. Consumers now take it as given that a company will have a site
Consumers today will search the internet for information about your business, and they would very much prefer to get it from your own company site. Even if you own a neighbourhood shop or local store, the majority of consumers today will search the Web for information about your business before they decide to make a purchase. Not having a company website could mean that your business has no growth potential, that you aren't looking for new clients, or that you don't want to adapt to the digital era. Whatever the case, you are clearly sending out the wrong message to your customers.
2. You can control your business's image and profile better through a company site
Comments on your business and reviews of its goods or services on third-party websites can be a good thing, but wouldn't it be preferable to control your image yourself on your own company site? A company site allows you to present who you are, what you offer, and why consumers should choose you in an official way, independent of what other people might say about you. And you can do that by creating your company's identity, logo and aesthetic yourself and applying them to your site.
3. A company site enhances your business's status and credibility as well as its reputation
Today's consumers are more skilled than ever before at searching for companies online, but also at evaluating them on the basis of their digital presence. In fact, two out of three consumers can determine how reputable a company is simply from the design of its website. That is why it is so important to have a contemporary, up-to-date and user-friendly company website with an email address of its own. Because all of the above will increase the prestige and enhance the reputation of your company. Indeed, in an era as beset by uncertainty and insecurity as our own, a professional company site reassures customers and sends out the message loud and clear: "we're still here, and still doing business!".
4. With a company site, you can sell online
The covid-19 coronavirus has led to consumers making significantly more purchases online from e-shops. But online sales had been on the rise for years even before the pandemic struck. This trend is set to continue even after shops return to normal. But even if you don't consider your business a good fit for online sales, or don't want to go to the trouble of setting up an online commercial presence, an e-shop can still help boost the sales of your physical shop. Because even when your physical shop is closed, an e-shop allows you keep on attracting customers and increasing your click-away or click-in-shop sales.
5. A corporate site is an economical way for a small business to advertise
Many small businesses which do not have a website of their own pay to be listed in electronic business directories, or try to advertise in traditional media. But are these really the most cost-effective and effective solutions? Traditional advertising is expensive, while electronic business directories are neither cheap nor provide good coverage. A company site, on the other hand, would allow you to address a wider audience and make your business known to them at a reasonable cost.
6. Young customers from your area can find you more easily if you have a site
Anyone who thinks that the only businesses that need a website are the ones that want to sell their products to customers nationwide or even beyond Greece is wrong. Because a site can also make it easier for local consumers to find you. Many searches relating to online purchases are made by consumers who want to buy something locally. A consumer may be wandering the streets using their mobile phone to look for a shop, restaurant or service provider in your neighbourhood. If you don't have a company site compatible with mobile phones, you could lose potential customers like these who are searching for what you provide in your area.
7. A social media presence isn't enough in itself
Many small businesses believe that creating a social media profile or account is sufficient for their online presence. Especially if they see that they have a fair number of followers and fans on Facebook or Instagram, or that their interactions and likes are on the rise. Unfortunately, such a strategy has its drawbacks. For a start, your presence and mode of communication will always depend on the social media platform on which you have an account. Every platform has its rules, and something that's allowed today may not be permitted tomorrow. Which means you don't have absolute control over the content of your messages when you use social media. What's more, trends change and if a platform starts attracting a different type of user, your profile may no longer be a good fit. In contrast, your site belongs to you. You can communicate whatever you want however you want, and internet users can always find you, no matter what social media they are using at a given time. του περιεχομένου και των μηνυμάτων σας, όταν χρησιμοποιείτε κάποιο κοινωνικό δίκτυο. Επίσης, οι τάσεις αλλάζουν, τα κοινά της κάθε πλατφόρμας μετακινούνται, η ταυτότητα του κάθε δικτύου μπορεί να μην ταιριάζει στο δικό σας profile. Αντίθετα, το δικό σας site ανήκει σε εσάς. Μπορείτε να επικοινωνήσετε ο,τι θέλετε, με όποιον τρόπο θέλετε και οι χρήστες του διαδικτύου να σας βρίσκουν πάντοτε, ανεξαρτήτως των επιλογών τους στα μέσα κοινωνικής δικτύωσης.
At OPEN UP COMMUNICATIONS, we believe in the digital transformation of the Greek economy and in upgrading small, local businesses that embrace the digital age. We have the expertise skills and experience, but above all the desire passion and ambition, to open the door onto the digital age for you by working with you to design your company's web presence.
With cost-effective solutions and modern, creative designs, you can enhance your image and reputation and advertise more effectively, acquiring new customers and earning the position you deserve in the new digital environment—which is where the majority of consumers are now to be found.
Get in touch today to discuss your needs.
Our team will recommend the most appropriate solutions for a company site that showcases your business in the best possible way.